Section B: American Classics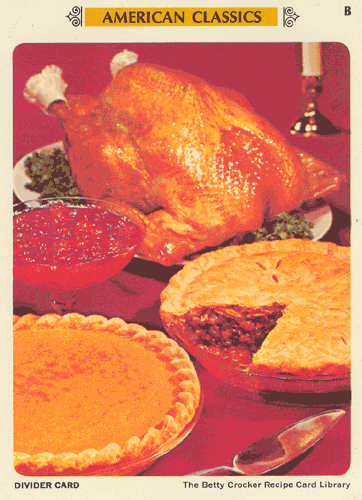 about American Classics...
Here are some uniquely American and cherished recipes - collected by us through five decades, many times tested by three generations of homemakers and now given a modern look with streamlined methods to reflect the finest in tradition American taste.
This vast and diverse land embraces people born of many cultures and with them, the inherited wealth of the characteristic foods. Where oceans lap our shores, great seafood dishes abound; where deserts stretch, highly seasoned foods of Spanish origin are found.
Sample the regional delights that dramatize our nation's past - pumpkin pie and flapjacks form the hearty North, the boiled dinners and pandowdys of old New England, the elegant Crab Louis of California fame and the creamy coleslaw, oatmeal cookies and strawberry shortcake of mid-America.
In these recipes, we salute the roast turkey, a gift to our forefathers from native Indians, the cranberry relish and corn muffins, the chowders and Southern shrimp creole - all representative of American cuisine at its best and most enduring.
Cordially,
Betty Crocker
Pictured: Roast Turkey, Cranberry Relish, Old-Fashioned Pumpkin Pie and mince pie.