Section D: Salads for Every Occasion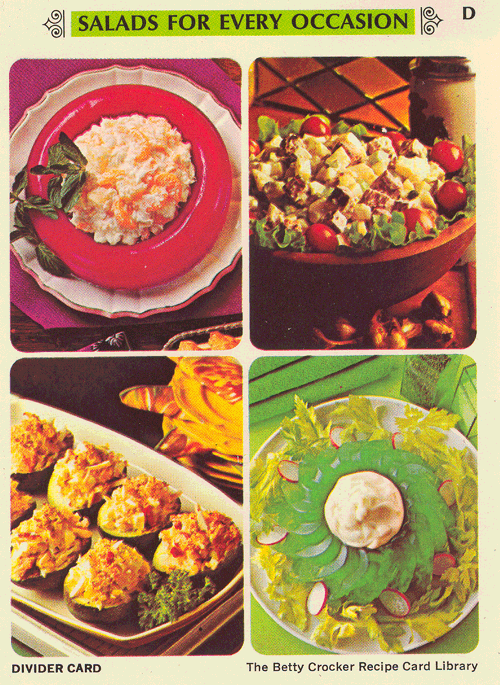 about Salads for Every Occasion...
A salad can be all things to all meals - the tangy, crisp accent for a rich meat entree or the impressive introduction to a steak or a seafood dinner, sometimes served as a first course of distinction in the California manner. It can be an entire luncheon dish - hot for fall and winter, brilliant with fruits or vegetables in season, or meat en gelee, set forth on correctly chilled plates.
It can be tossed in a bowl, arranged or molded with an artist's eye as a medley of color, taste and texture; or mixed before one's guests with virtuoso skill. It can be a summer meal in itself, a buffet relish bowl or hearty and served hot from the oven.
A perfect salad is an unforgettable way for a good cook to shine. Herewith, many kinds from simple family-style and picnic salads to those for company and grand occasions.
Cordially,
Betty Crocker
Pictured: Raspberry Ring, Corned Beef-Potato Salad, Hot Crabmeat-Avocado Salad, Garden Relish Mold