Section G: Come For Coffee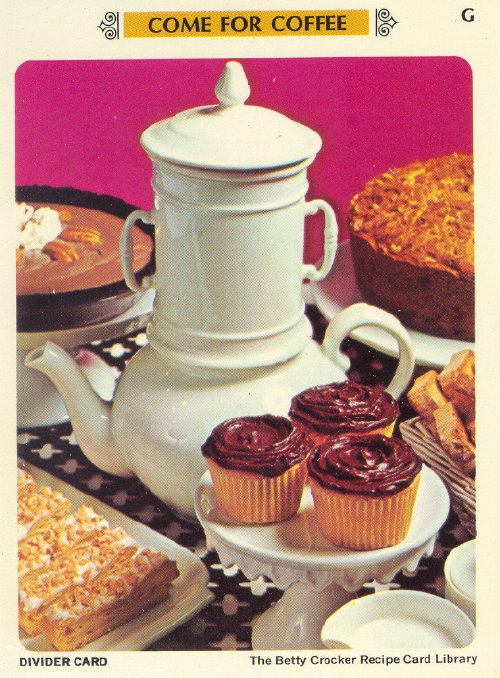 about COME FOR COFFEE...
To paraphrase the poet, "Comes a pause in the day's occupations that is known as the coffee hour." For that welcome break - when you entertain invited guests or just put on the coffee pot for a neighbor or two, here is a treasury of ideas on what to serve - when.
Delicious bakings make stimulating conversation over a cup of coffee and are impressive entries in the friendly rivalry to see who can serve the most inviting food.
These recipes start with the simplest of do-aheads or last minute impromptu treats, and go on to those beautiful breads made with yeast that you'll return to again and again. No one likes all sweets, so we've varied our coffee companions to include some sophisticated but simple non-sweet combinations.
And for a way-out treat, bring on our hospitality coffees, spiced and exotic, to brighten the occasion. Remember, Too, there's no warmer welcome for arriving guests than the homey fragrance of something baking in your kitchen.
Cordially,
Betty Crocker
---
Anyone know which poet Betty is paraphrasing? I'm sure that as a culturally literate American I should know this. I probably knew this but that bit of storage space now contains Star Trek trivia or some other equally useful bit of information.
Update: An alert reader sent me this information:
The poet that Betty is paraphrasing is Henry Wadsworth Longfellow, from his poem "The Children's Hour." http://www.poets.org/viewmedia.php/prmMID/15639