Section E: Men's Favorites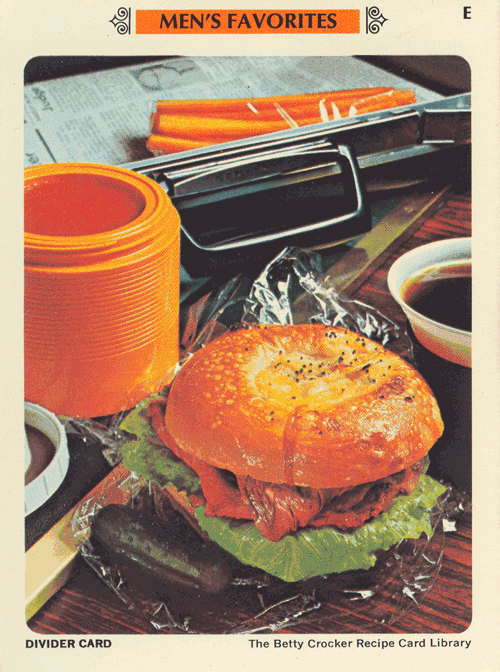 about Men's Favorites...
When a man's fancy turns to thoughts of his favorite foods, chances are good that you'll find the right recipe in this collection. If he's in a meat-and-potatoes mood, tempt him with Pot Roast and Sour Cream Gravy. When he yearns for food like mother used to make, bring on Chicken Fricassee with Dumplings light as a cloud.
For occasions when only gourmet fare will do, try him with a masterful Beef Stroganoff served by candlelight. And if he insists the simple things in life are best, wait till he tastes your Savory Duckling on a Spit!
They're all here - princely recipes for kingly dishes, tested and male-approved for you.
Cordially,
Betty Crocker
---
How did anyone write the above copy and keep a straight face? I had a hard time transcribing without laughing. <Sheesh>
I have a small sample of men at my disposal to test Betty Crocker's male approval.
Because of demand I will include the actual recipes along with the fronts of the cards.
Who is the person pictured in the newspaper?